follow friday: four fill-in fun
You guessed it folks: This is a blog hop! I am apparently powerless to resist Hilary, the cutie-pie behind
Feeling Beachie
and the host of this fun Follow Friday.
Of course, you also get to follow me, and I you, if you wish...
(Pick your poison:
Facebook
,
Twitter
,
Pinterest
,
Blogger
,
RSS feed or email
)
You can play the fill-in game without following or hopping too, com'on, it'll be fun!
I'll let her do the explaining:
Welcome to the 60th weekly Follow Friday Four Fill-in Fun Blog Hop!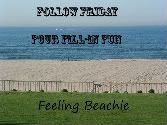 Each week, I plan on listing four statements with a blank for you to fill in on your own blogs. If you want to join the fun and come up with four fill in's of your own, please email them to me at feelingbeachie@gmail.com. If I use them, I will add you as co-host to the hop! This week's co-host is Beth Ann from
It's Just Life
I would

LOVE

it if you could please help me spread the word about this hop…. So, please

tweet,

FaceBook share

, and

add the linky

to your post…
This week's statements:
1.
I never ___ when I ___
2.
I used to __but I stopped
3.
My favorite picture of all time is of _______________
4.
When it gets dark I think about _______________
Please

follow me

. Since Google Friend connect is gone, please follow through

networked blogs, Facebook fan page or by email

….If there is a co-host, please

follow them

as well. Leave a comment! I will follow back!
Please

link

your Follow Friday Four Fill-In Fun post to the linky below.

PLEASE grab the linky

and post on your blog…
1. I never fail to blink when I have my photo taken.
2. I used to worry about what people thought of me but I stopped
3. My favorite picture of all time is of anything with Emily in it, especially the baby ones :)
4. When it gets dark, I think about food, why is that?
Labels: blog hop, fill-in friday