follow friday: nuclear, spitting, crying, and millionaires
Why, yes. This is a another blog hop! But this time, Hilary, the cutie-pie behind Feeling Beachie and the host of this fun Follow Friday, made me the co-host. Weee!
I am quite proud of the fact that I came up with some of the questions... I think. (It was late and I couldn't sleep and I can't find the email I sent her, but if she says so, I'll take it! With GLEE!).
The drill? You link up, you hop, you meet new people or schmooze with the regulars. Of course, you also get to follow me, and I you, if you wish...
Pick your poison:
Facebook
,
Twitter
,
Pinterest
,
Blogger
,
RSS feed or email, my other blog
You can play the fill-in game without following or hopping too, no problemo! (Yes, I'm talking to you, Heather, you cheeky girl :P)
I'll let Hilary do the explaining:
Welcome to the 61st weekly Follow Friday Four Fill-in Fun Blog Hop!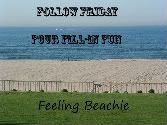 Each week, I plan on listing four statements with a blank for you to fill in on your own blogs. If you want to join the fun and come up with four fill in's of your own, please email them to me at feelingbeachie@gmail.com. If I use them, I will add you as co-host to the hop! This week's co-host is MEEEEEEEE!!!!
I would

LOVE

it if you could please help me spread the word about this hop…. So, please

tweet,

FaceBook share

, and

add the linky

to your post…
This week's statements:
1.
I can't stand when people say ____
2.
If you are going to __ please____
3.
Call me a _____ because _____
4.
If I had a dollar for every time I heard ______, I swear I'd be a millionaire by now.
Please

follow me

. Since Google Friend connect is gone, please follow through

networked blogs, Facebook fan page or by email

….If there is a co-host, please

follow them

as well. Leave a comment! I will follow back!
Please

link

your Follow Friday Four Fill-In Fun post to the linky below.

PLEASE grab the linky

and post on your blog…
1. I can't stand it when people say "nuclear" wrong. What the hell is Noo-keel-er? Or supposably. ARGH that's NOT a word!
2. If you are going to
spit in the middle of the street
, please
make sure that I'm not around. I think it's incredibly disgusting and I will not be shy about letting you know it
. And don't even think about gathering your phlegm with that
awful
guttural
noise.
3. Call me a cry baby, because I cry when watching sappy movies. I mean I know they're manipulating my emotions, but I am apparently very easy to manipulate, a willing participant in the subterfuge.
4. If I had a dollar for every time I heard someone say "if I had a dollar for every time blah, blah, blah", I swear I'd be a millionaire by now.
Labels: blog hop, fill-in friday